AFYX Therapeutics is changing the way mucosal diseases are treated. We are developing a pipeline of targeted treatments for unmet medical needs in oral health diseases, such as Head and Neck Cancer (H&N), Oral Lichen Planus (OLP) and Recurrent Aphthous Stomatitis (RAS); and women's health diseases, such as Vulvar Lichen Sclerosus (VLS).
Current treatments of mucosal and genital diseases involve the topical delivery of drugs using creams or mouthwashes, which is inefficient due to short exposure times of the site in need to the drug, or the systemic administration of drugs, potentially leading to significant secondary effects. In some cases, such as oral dysplasia, surgery may even be required to remove the affected area.
The treatment paradigm developed by AFYX Therapeutics removes these disadvantages by targeting an effective dose of a therapeutic directly to the site in need, such as oral and genital mucosal surfaces, while avoiding systemic drug exposure. The composition of the patch makes it possible to achieve long adhesion times in multiple locations of the body (Up to several hours depending on the application site – e.g., 2 hours in the mouth and overnight on the female genitals).
The features of the patch help the patient to fully carry on with the treatment with a minimum of interference in their daily lives:
It adapts comfortably to different anatomies due to high flexibility
It is simple to use and easy for the patients to apply on the right spot
It has no noticeable flavor
These benefits have been successfully proven in clinical studies, generating excellent Phase 2 data in Oral Lichen Planus and phase 1b data in Vulvar Lichen Sclerosus. The clinical trials have demonstrated to improve the patients' quality of life. Additionally, the patch has been tested with a multitude of active pharmaceuticals, demonstrating the versatility of this technology.
AFYX Therapeutics is creating a new treatment paradigm for mucosal and genital diseases by providing the first medicines that stick.
Dr. Madsen brings more than 20 years of leadership experience in drug development and biotechnology, holding a range of key executive roles to advance new treatments. Prior to joining AFYX, he served as vice president and board member of pharmaceutical company NeuroSearch, which specialized in therapies for conditions affecting the central nervous system. Earlier, he held the role of chief operating officer at BioAdvice, a preclinical contract research organization. He holds a Ph.D. in molecular biology and immunology from the University of Copenhagen Faculty of Life Sciences.
For more than 25 years, Ms. Korsgaard has led biopharmaceutical regulatory functions in companies including Shionogi Europe, UCB, Genmab, Action Pharma, Actavis, and LEO Pharma. She's served as the global regulatory lead on numerous projects and ushered companies through strategic, value-creating interactions with European, U.S., and Japanese regulatory authorities. Ms. Korsgaard's expertise spans small molecules to biologicals, small to larger biopharma companies, and global regulatory filings across the spectrum of therapeutic development, from preclinical to post-marketing activities. In collaboration with Copenhagen University, she lectures for the Masters of Regulatory Affairs program on topics such as global regulatory strategy and clinical documentation for regulatory purposes. She holds a Master of Science in Pharmacy from the Royal Danish School of Pharmacy at the University of Copenhagen, and an MBA from the Scandinavian International Management Institute (SIMI).
Produced using AFYX Therapeutics' proprietary formulation and the electrospinning manufacturing technique, the Rivelin patch is comprised of two layers: an adhesive drug-delivery layer and a backing layer.
The drug-delivery layer possesses a unique structure made of nanoscale and microscale fibers with high porosity and surface area, which facilitates patch adhesion to the mucosal lining. The adhesiveness of the layer only manifest when in contact with a moist surface, minimizing the risk of drug exposure elsewhere when handling the patch.
The drug is incorporated into the fibers during manufacturing, and it is released after application to the site in need. This results in a prolonged interaction with the tissues and a sustained release, which enhances drug bioavailability.
The impermeable backing layer prevents drug release into any other areas than those intended and drives drug penetration into the target lesion. The backing layer also facilitates the easy application of the patch by the patient, for example by preventing the patch from sticking to the fingers.
The result is a flexible, biocompatible, mucoadhesive patch that releases a therapeutic over a significant period of adhesion.
Phase 2 Clinical Results
In  April 2020, AFYX Therapeutics announced that the Rivelin® Clobetasol patch ("Rivelin-CLO") met the primary and multiple secondary endpoints in a Phase 2 study in patients with oral lichen planus (OLP). In the largest randomized, double-blind, placebo-controlled study ever conducted in OLP patients, the 20μg dose (Phase 3 recommended dose) of Rivelin-CLO demonstrated a statistically significant improvement in ulcer area, and continued to show improvement through the end of 4 weeks. No serious adverse events were observed and patients reported overall ease of use and patch adherence to the oral cavity for an average of 90 minutes.
Rivelin-CLO is the first biodegradable oral adhesive patch designed for local delivery of clobetasol to treat symptomatic OLP lesions. It uses a novel electrospinning technology to create a unique patch capable of adhering to the oral cavity for an average of 90 minutes, and other wet tissue surfaces for approximately 9.5 hours, while delivering a steady therapeutic dose to the lesion. OLP is a chronic, inflammatory disease characterized by symptomatic lesions and ulcers in the mouth, and is estimated to affect over 1 percent of the population in the United States and Europe, or over 6 million patients combined. There are no approved treatments for OLP.
The Phase 2 trial enrolled 138 adult patients diagnosed with OLP and who had at least one visible and measurable symptomatic ulcerative lesion. The study, conducted in Europe and North America, was a randomized, double-blind and placebo-controlled clinical trial with three active dose arms (Rivelin-CLO 1 μg/patch; Rivelin-CLO 5 μg/patch; Rivelin-CLO 20 μg/patch) and one placebo arm (Rivelin placebo patch). Patients were treated twice daily and evaluated on a weekly basis for 28 days of treatment.
Phase 1b Results
The second Phase 1 clinical trial, conducted in 2017, investigated adhesion time, tolerability and usability of the Rivelin plain patch in oral lichen planus patients. Thirteen patients were enrolled in the multi-center trial, and the patch was applied to OLP lesions on patients' cheek, gingiva and tongue twice daily for four weeks. Patients were assessed weekly for adhesion time, tolerability and usability of the Rivelin patches. The minimum objective adhesion time was exceeded (with mean adhesion time of 90 minutes), and the patches were well tolerated with good patient compliance. The general patient experience with the Rivelin plain patches were positive, as assessed by patient questionnaire.
Phase 1 Results
The open-label, randomized (side to side) study in 2016 investigated adhesion time of the Rivelin plain patch in 26 healthy volunteers at three distinct locations within the oral cavity: cheek, gum and tongue. It also explored patient experience with applying the patch. Across all 78 adhesion events, the minimum objective adhesion time was met or exceeded. The patch led to no or minor irritation and low impact on speech and swallowing.  All subjects noted no taste or weak taste with a neutral taste perception, and acceptability of the patch was high. Subjects noted the application process was easy and comfortable, and the patch was easy to remove. No adverse reactions were reported.
Phase 1 Clinical Development
In October 2019, AFYX announced results from a Phase 1 clinical proof of concept study evaluating the use of the Rivelin® bio-adhesive patch in patients with vulvar lichen sclerosus (VLS), a painful genital skin condition that affects up to 3% of post-menopausal women. All twelve patients in the study reported the successful self-application of the Rivelin patch to VLS lesions with a mean adhesion time of more than nine hours. No safety issues were reported and the patch was well tolerated. The poster presented at the 2019 EADV Congress is available on the publications page of the AFYX Therapeutics website.
Click to read more
AFYX has screened a new mode of action in an OncoPanel™ multiplexed cytotoxicity assay that measures multiple responses of cancer cell lines to drug treatments in parallel.
This study evaluated the effect on human tumor cell proliferation, induction of apoptosis, and arrest of the cell cycle were measured.
A summary of observations and results on oral cavity human tumor cell lines; Cal 27, SCC-25, SCC-4, SCC-9, A-253 concludes that AFYX has identified a new mode of action to target oral manifestations of Head & Neck cancer as the panel of test items inhibited proliferation, arrested cell cycle inhibition and induced apoptosis.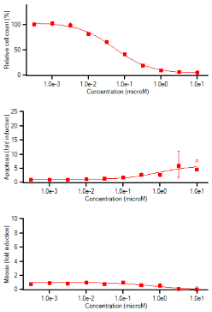 Inhibiting cancer cell proliferation & arresting cell cycle
Recurrent Aphthous Stomatitis
Click to read more
The Phase 2a clinical trial of the Rivelin® Clobetasol patch ("Rivelin-CLO") showed that the patch can successfully treat symptomatic ulcerative lesions in the oral cavity. These lesions are of the same kind as those present in RAS, and therefore the outcomes suggest that a patch similar to Rivelin-CLO could be used to treat RAS lesions effectively. This is the basis on which AFYX Therapeutics rely on to develop a new topical treatment for RAS using the Rivelin technology.
Clinical Trials
Rivelin is currently being studied in mucosal diseases
where topical treatments have proven ineffective.
Rivelin-CLO for Oral Lichen Planus
Phase 2b
Conducted up to 20 sites in Europe and North America, the Phase 2b study is a randomized, double-blind, four-arm, placebo-controlled trial that will enroll approximately 240 adult patients clinically diagnosed with oral lichen planus and who have at least one visible and measurable symptomatic ulcerative lesion. The primary objective is to demonstrate the efficacy of three different doses of Rivelin-CLO patches in treating OLP lesions over four weeks, as assessed by change in ulcer area. Data is expected in 2019. More information is available at www.clinicaltrials.gov (identifier #NCT03592342).
Rivelin-Undisclosed for Vulvar Lichen Sclerosus
Phase 1
Our Rivelin product for Vulvar Lichen Sclerosus is being evaluated in a 12-patient, open-label single-center study in Denmark. Objectives of the Phase 1 study are to obtain patient feedback on feasibility of administering patch, to evaluate adhesion time on relevant regions of the body, to understand tolerability and sensation of the Rivelin plain patch, and to address what features a Rivelin vulvar patch should encompass. Based on the study results, further work is planned to optimize the patch in terms of size, shape, active ingredients, and adhesion profile. Data is expected by early 2019.
Oral Lichen Planus (OLP) is a chronic autoimmune/inflammatory disease of the mucosa (the lining of the mouth, digestive tract, genitals) that affects more than 1 – 2 percent of the general population — or more than 6 million people in the U.S. and Europe. Symptoms vary, but the disease is typically characterized by asymptomatic reticular patterns but can also manifest in a symptomatic stage with open wounds (ulcerative lesions) in the mouth, accompanied by inflammation (erythematous) and severe pain. The precise cause is unknown, although an autoimmune disorder is suspected. OLP cannot be passed from one person to another.
OLP is most frequently located on the buccal mucosa (the inside lining of the cheeks and floor of the mouth) but can also appear on the tongue, the roof of the mouth, gums, and lips. Because of the painful symptoms, which often arise during routine dental hygiene, and the long-lasting nature of the disease, patients require ongoing care and monitoring, having a significant impact on the quality of life of the patients.
Patients with OLP have a significant risk of the lesions transforming into oral cancer, up to 12.5%, making early detection and treatment imperative.
There are no approved treatments for OLP. Patients are currently treated with off-label steroids, formulated for use elsewhere in the body, to manage painful, erosive, or bullous (with blisters) lesions. Yet, there are virtually no steroids on the market formulated for topical drug delivery to lesions in the mouth. Creams and ointments do not adhere to oral mucosa and are easily swallowed, while mouthwashes and steroid inhalers have extremely short contact time with lesions. For severe and difficult-to-treat lesions, steroids administered systemically with tablets or injections are often needed, which may give rise to undesired side effects even though OLP is localized.
AFYX Therapeutics has developed a steroid patch as the first targeted treatment for OLP, which efficiently and safely delivers the powerful steroid clobetasol directly to the site in need thus reducing exposure of the drug to the rest of the body and minimizing potential side effects.
For more information and support, please visit the International OLP Support Group.
Vulvar Lichen Sclerosus (VLS) is a chronic inflammatory disease that most commonly affects the mucosa in the vulva, groin, and perianal region of postmenopausal women, and less frequently it can develop in regions outside of the genital areas. In rare occasions, it can also affect men and children. VLS is not sexually transmitted and cannot be passed from one person to another.
Symptoms may include itching (pruritus), discomfort or pain, smooth white spots, blotchy and wrinkled patches of skin, easy bruising or tearing. In severe cases, bleeding, blistering, or ulcerated lesions can also be seen. The exact cause is not known.
VLS is often misdiagnosed or not diagnosed at all, sometimes due to patients' lack of guidance on where to go for expert treatment. Research estimate that approximately 5.3 million individuals in the U.S. and Europe may suffer from VLS.
Patients have an increased risk of developing a cancer known as squamous cell carcinoma, making early detection and treatment especially important. However, there is no approved medical treatment for the condition. Off-label steroids, formulated for use elsewhere in the body, are the standard of care today. Yet, these creams and ointments can easily rub off on clothing and do not remain safely at the lesion site for a long time.
AFYX Therapeutics has developed a flexible patch which efficiently and safely delivers a drug directly to the site in need. It has been clinically tested on patients for usability and comfort, and the feedback has been very positive. The patch provides a convenient and effective way to treat and heal the VLS lesions as quickly as possible.
For more information and support, please visit the Danish VLS Society.
Oral Leukoplakia is a common type of lesion present in the oral mucosa that can be associated with a high risk of malignant transformation into Head & Neck cancer. The prevalence of Leukoplakia is about 2% of the general population, which corresponds to 15 million patients in the EU and the USA.
Oral dysplasia is a term that describes harmful changes in lesions such as Oral Leukoplakia. These may have a white, red or speckled appearance, and can only be properly identified as dysplasia once a biopsy examination has been performed. Oral Dysplasia is present in 20% of leukoplakia cases, with about 30% of those cases progressing to oral cancer (Oral Squamous Cell Carcinoma, OSCC) within 10 years, making early detection and treatment of Oral Dysplasia very important to minimize the risk of developing cancer.
Current treatments of severe Oral Dysplasia, Carcinoma in Situ and OSCC involve surgery to remove the lesion, which can be very invasive. However, up to 30% of patients experience lesion recurrence, usually within 1-2 years after surgery. Radiation is used in cases where the patient cannot have surgery because of other medical problems. Topical drug treatments are complicated by short exposure time to anticancer drugs.
AFYX Therapeutics is developing a new treatment paradigm targeting powerful anticancer drug safely and efficiently to the sites in need for a longer period of time compared with a standard topical treatment.
Recurrent Aphthous Stomatitis
Recurrent Aphthous Stomatitis (RAS) is an inflammatory, non-contagious condition characterized by the repeated formation of painful ulcers on the buccal mucosa. These ulcers, which are popularly known as canker sores, occur periodically and often heal completely between episodes. In most cases, the ulcers last about 7 to 10 days, and ulceration episodes occur 3 to 6 times per year. Severe cases of RAS are characterized by almost constant ulceration, with new lesions developing before old ones have healed, and may cause debilitating chronic pain and interfere with comfortable eating.
Although the cause of RAS is unknown, it is likely that an immunological factor is involved. Certain risk factors such as anemia, vitamin deficiencies, stress and trauma caused by sharp teeth, dental braces/fillings, or a toothbrush may trigger the start of a RAS bout. Age, socioeconomic status and genetics also play a role in the incidence of RAS. The peak age of onset is usually located between 10 and 19 years old, and about 80% of people with RAS first develop the condition before the age of 30.
There is currently no cure for RAS unless an underlying cause is found and treated. Generally, the treatment for RAS aims to relieve the pain associated with RAS, relieving discomfort, preventing or reducing secondary infections and encouraging healing of the lesions. Topical corticosteroids can be applied locally to the mouth in the form of mouthwashes, sprays, and small dissolvable pellets. Although the frequency and severity of RAS tends to decrease with age, approximately 10-20 % of the patients need medical treatment.
Based on our successful experience with the Rivelin(R) patch, AFYX Therapeutics is developing a new topical treatment for RAS that will allow the patients to manage the disease and improve their quality of life by treating the ulcers in an efficient and convenient way.
No open positions at the moment.